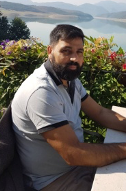 Rrahmon Stollaku
Rrahman Stollaku from Fushë Kosova, Master in public administration with diplomacy.
Rrahman is coordinator at the learning center in Fushë Kosovë since 2008.
Rrahman favorite quote is: It is never too late to go to school. Education is the key to life, "A child, a teacher, a book, a pencil can change the world."